Check out the latest Inside the E-Board.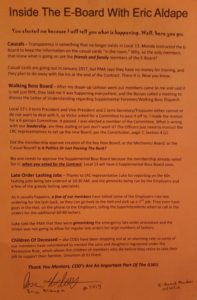 Or eric-inside-the-e-board-10-24-16 if you prefer PDF format.
Local 13 had 2 no-quorum Executive Board meetings, rumor has it President Bobby O Jr. decided to put out an attendance sheet at last weeks E-Board that he failed to attend. He was at the Union meeting in Tacoma telling Local 23 members that Local 13 lost 800 jobs to the 2 robot docks in LA/LB, so far.
Local 13 members have not seen the "Agreements" negotiated by Bobby, nor have they been told that they have lost 800 jobs to the robots, so far.
That explains why the casual cards have been so slow in coming, there is not going to be any more longshore registrations for a long time. There is no need. The employers have a guaranteed source of labor that they do not have to pay benefits to. Why would they agree to hire more longshoremen? So they can pay them PGP?
While Bobby was here he could have explained to both Deano and Rich that in LA longshoremen are allowed to attend JPLRC meetings, and they can have any longshoreman they want represent in front of the JPLRC.
Thanks Deano and Rich for the free publicity. Keep telling your members not to read this stuff.
If you want to work as a longshoreman, you had better become a mechanic.
After the robots take over, they will be the only longshoremen left on the docks.
Chug, chug, chug…..
The only thing missing from yesterday's Seattle JPLRC meeting was the white sheets and those pillow cases with eye holes cut in.
Grand Wizard Rich Austin Jr., and his boy toy Dougie Stearns from PMA, told 2 members form Local 19 that they could not attend the JPLRC meeting, and that they could not help represent each other, then locked them out of the PMA offices to wait in the parking lot, all day, until their grievances were discussed.
The way they did what they did, makes it racist behavior.
The way little white guys like Rich Austin treat others, others that they are supposed to be representing, that determines whether or not their behavior is racist or not.
When little white guys like Rich Austin refuse to allow you into meetings you have a right to attend, and refuse to explain their reasons, or put what they are saying in writing, while aggressively and with anger, forcing you out of a room and slamming the door on you, it becomes obvious that they are racists.
Rich, you are a pathetic little racist, who doesn't know shit from shineola when it comes to labor relations.
Rich you are an embarrassment to Local 19 and the entire ILWU.
How do you square your behavior with the ILWU motto; an injury to one is an injury to all?
This is not over Rich, it is just starting.
Definitely, more to come……