Why is Local 94 President, Dirty Danny-boy Miranda, so upset about PMA filing grievances against longshoremen who were involved in the Port Medical benefits fraud?
Why did Dirty Danny-boy Miranda, and the Officers at Local 63, and the Officers at Local 13, all signed a letter saying they will not process any Section 17 Complaints against any of their members, involving Port Medical?
Here is why. Check out this Employer Complaint that PMA filed against past Local 13 President, Chris Viramontes.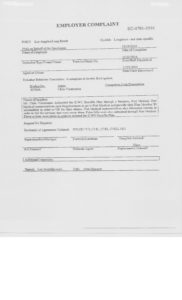 Or for those who prefer PDF: EC-0781-2016
This is a BIG deal. This could, and should, get Chris Viramontes deregistered!
Not to mention, this exonerates Eric from Chris' Section 13.2 conviction based on the "unsubstantiated rumor" that Chris was involved with the Port Medical fraud. Eric got 2 years off work for telling the truth and exposing the fraud.
This is the first of many Employer Complaints related to the Port Medical fraud.
In addition to Chris, 3 other Local 13 members, 1 Local 63 member, and 2 Local 94 members have received PMA Complaints.
Here is the letter Eric sent to the JPLRC upon receiving a copy of EC-0781-2016.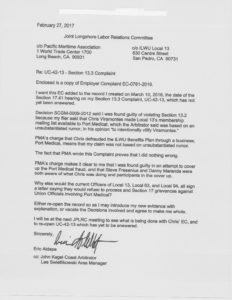 Or of those who prefer PDF: Eric – request to reopen for new evidence-2
If you were involved in the Port Medical fraud, you had better come clean because if you don't you will be getting an Employer Complaint just like Chris Viramontes did.
You know who you are, and so will PMA because they have all the court documents from the indictment and pleas of the 2 guys who went down first.
Ever wonder why Danny-boy's member Chris Rice was not named in any of the paperwork, even though it is common knowledge he was involved?
Because he rolled. How do you think they got the first 2 guys?
Either you come clean or PMA will use the court records to come and get you, and if that happens it will not bode well for you.
Come clean and make restitution now, and you stand a chance of keeping your job.
If you wait till they come for you, you will get the Chris treatment. And that silly letter the 3 Locals signed will not protect you.
Here is a copy of 1 of the court documents PMA will be using. Check out the pages listing check numbers and initials.
According to the DOJ Press release re Port Medical fraud, Crisanta Johnson, Regional Director for the Department of Labor's Employee Benefits and Security Administration; "It's unconscionable that the defendants would game such a sacred program to line their own pockets."
Do the right thing, or it will cost you your job!
More to come……..