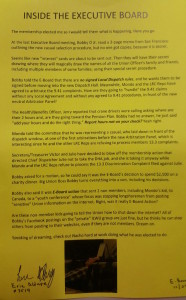 Bobby O Jr. read a 3-page memo from San Francisco outlining the new casual selection procedure, but no one got copies, because it is still secret, just like all the other Bobby O Agreements like the Automation Agreement and the Local 13 Crane Training (aka Make Whole) Agreement.
Seems like new "interest" cards are about to be sent out. Then PMA and Local 13 will have their secret drawing where they will magically draw the names of all the Union Officer's family and friends, including multiple members of some families; using their special secret procedure, just like they did in Tacoma.
Check out the Local 23 website, they are looking for members to sign up for the "Entry Level Process (lottery) committee."
What is Local 13 doing? No one knows, it is secret.
Bobby finally admitted that there are no signed Local Dispatch rules, and he wants them to be signed before moving into the new Dispatch Hall.
Bobby tried to make it sound like he was going to hold the signing hostage, until PMA gives him something. If PMA wanted the minutes signed, they would have been signed years ago. PMA does not give a shit. It just shows how stupid Bobby is.
Meanwhile, Mondo, Luke and Catfish have agreed to arbitrate the 9.41 complaints. What 9.41 complaints? Are they complaints filed by the Union or the PMA? How do you bring in a guy for a violation he has no idea has occurred? Not one of the members being charged refused to accept an upgrade.
Is that what they are teaching you at your LA Technical College labor class? Probably not, which makes me wonder who is advising you morons?
The fallout from Bobby's Make Whole Con has started, with Health/Benefits Officer, Jerry reporting that crane drivers are calling asking where their 2 hours are and, are they going toward the Pension Plan. Bobby's answer of just saying, "add your hours and do the right thing," is not going to make this go away.
Little Bobby and Big Bob created this mess when they tried to get around paying the assessments on their "make whole" crane payments. They can fix it by getting PMA to report the hours, and pay the assessments. No one is going to add hours that are not showing up on their pay check stubs. Just do the right thing, boys.
Mondo told the committee that he was representing a 3-time loser casual, who laid down in front of the dispatch window to protest her dissatisfaction with one of the complaints filed against her.
Mondo, Luke, and Catfish are going to make her case one of the first arbitrations before the new Arbitration Panel, which is interesting since they are refusing to process at least 11 Section 13.3 Discrimination complaints, filed by members.
Secretary/Treasurer Victor and Julie have apparently decided to blow off the membership action, which directed Chief Dispatcher Julie not to take the DHA job, while Mondo and the LRC Reps refuse to process the 13.3 Discrimination Complaint filed against her.
Rumor has it, a motion was made to make the DHA an elected position, but was ruled out of order by Bobby. Bobby and his crew keep saying that the DHA job is a PMA pick because they pay 100% of the payroll for the job. Who are they trying to kid, the DHA job has always been a Union pick, and every single pick worked the same way. The Union tells PMA who to pick, and PMA picks them. Then PMA pays 100% of the payroll as a Dispatch Hall expense.
The DHA job should be elected, just like all the other Joint Dispatch Hall positions.
When asked, Bobby said it was Executive Board action that sent 2 non-members, including Mondo's ID mechanic kid, to Canada, to a "youth conference" whose focus was stopping the posting of "sensitive" Union information on the internet.
Right, the Union agreed to pay 2 non-members to go to Canada to represent Local 13. That is why Local 23 sent their President, Pirate Deano McGrath.
Are the non-member kids going to tell the Union how to shut down the internet? All of Bobby's Facebook postings on the "private" ILWU group are just fine, but he thinks he can stop others from posting to their websites, even if they are not members.
They could have asked Deano, Local 23 just settled a NLRB Charge related to their internet posting rule, which was found to be unlawful. Local 23 posted a notice for 60 days saying they would not interfere with workers posting information on the internet, even "sensitive" Union information.
Have any of you casuals, who make over 800 hours per year ever considered a Section 13.3 Discrimination Complaint related to the fact that you earned benefits and the only reason you are being denied is your "activity for or against the Union, or lack thereof"?
If all the casuals were allowed to vote, like B-men who are also not members of the Union, do you think that would affect the ratification and therefore, the negotiation process? I do. There are more casuals than members.
In the meantime, casuals should ask the Union's E-Board members what the new procedure is and when it is going to be implemented.
Information is power, get some.
Chug, chug, chug…..