It is on.
Local 23 "took it to the outside" on inauguration day, January 20, 2017, when Business Agent, Dave Basher, lied to Eric saying he was on "no dispatch to the SIM," and that there was a "letter from the Coast."
Here is the letter Basher claims is form the "Coast" and says Eric is on no-dispatch to the SIM.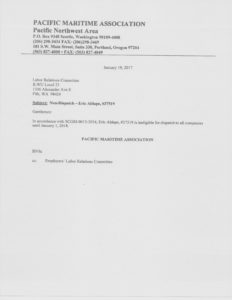 Or for those who prefer PDF: PMA no-dispatch letter on Eric 1-19-17.
The Letter is NOT from the Coast, says nothing about the SIM, and cannot be enforced according to the Settlement Agreement reached the last time Local 23 tried to refuse to dispatch Eric in 2015.
Of for those who prefer PDF: NLRB Internet posting rule & NLRB Case 19-CB-107522 et al Settlement Agreement
How anyone at Local 23 could read that, they say they have the right to deny him employment at the SIM while on no-dispatch over his Walking Boss Shape-Up cartoon?
Nubie PMA employee, Bill Nelson got used by someone at Local 23 to put this letter out, just so they could use it to refuse to dispatch Eric.
Local 23 "took it to the outside" when they used a PMA Arbitration to try and stop Eric from working at a non-PMA job.
NLRB charges have been filed against Local 23 and PMA for refusing to dispatch Eric to the SIM.
Or for those who prefer PDF: NLRB Case 19-CB-191596 Charge against Local 23, NLRB Case 19-CA-191591 Charge against PMA.
What does Dave Basher think he is doing?
Did he read the article on Page 3 of Local 23's webpage newspaper?
According to the article on page 3:
"AN INJURY TO ALL
An injury to one is an injury to all. We can put that principle to work by defending the people Trump is attacking, starting with our own members."
Why is Local 23 attacking one of their "own members" instead of defending him?
Is this another case of; do as I say, not as I do?
As soon as the NLRB starts doing affidavits the gloves will come all the way off, and you will be able to read the 19 page appeal PMA filed trying to protect Eric from his own union.
Unfortunately all the appeals were unsuccessful and Eric had to go back to the SIM to work to support his family, while he decides what to do.
Now Dave Basher and Local 23 have taken that away from Eric by refusing to dispatch him to the SIM.
Did they forget that 2 years ago they allowed one of their members to work at the SIM while he was on no-dispatch to all PMA companies for assault?
We are doing what we need to do.
You can help by visiting Eric's GoFundMe page and making a donation.
https://www.gofundme.com/Eric-and-his-family