Up until yesterday I thought that the following JOC article about increased productivity and the ILWU/PMA early talks was wishful thinking at best.
Early ILWU-PMA talks offer means to fix productivity problems
That was until I read the following Agreement between Local 19 and the Northwest Seaport Alliance.
According to the Presidents Report from the May 12, 2016, Local 19 Membership Meeting Minutes, the Northwest Seaport Alliance Agreement is the result of a meeting held on May 11, 2016, with the Northwest Seaport Alliance who was seeking to increase crane productivity.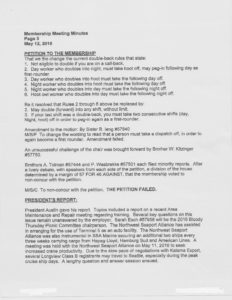 Or for those who prefer PDF format: Local 19 & NW Seaport Alliance Crane Productivity Improvement Agreement
Who would have thought that the key to increased crane productivity would be a NON-PMA member group seeking to "increase Port marketability by driving production to world class levels."
I hope the NON-PMA agriculture group and/or the NON-PMA retailers group are paying attention, they might learn something.
Never mind that the Agreement is a hip-pocket agreement in violation of Section 24.2 of the PCLCD.
What kind behavior would "demonstrate the need for further instruction/coaching?"
What kind of measurements are "they" going to use and how is the measuring going to be done?
These questions are usually answered through the collective bargaining process, but that did not happen here.
Do the morons that wrote; "The Parties recognize that this is a unique, non-precedent setting, stand-alone program," really think they can stop others from demanding the same from other Locals with that language?
What is Rich Austin going to get out of this?
How about an all expense paid vacation to God knows where, to help the Northwest Seaport Alliance increase Port marketability? First Class of course.
Way to go Rich. Ask your Union buddies how they feel about your Local agreeing to set minimum production standards (crane moves per hour) for the first time on the West Coast?
More to come….