ILWU Solidarity, Local 23 style.
Local 23 Business Agent Dave Basher posted the following Motion to raise the fee charged to 30-day Travelers from $25 to $500 per visit.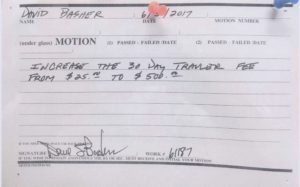 Apparently this is Basher's idea of how to raise money to offset all the attorney's expenses related to the recent NLRB charges filed against Local 23.
It was Basher that prevented Eric from working at the SIM, and he lied saying the CLRC said he could not.
It was Basher that decided to place members into 28-day treatment, with no training and no authority.
It was Basher that refused to do anything to Scott Mason after he picked up and dropped a semi at Matson, injuring the driver.
Now it is Basher that is shooting his mouth off about the money being spent to defend the Local from NLRB charges, filed by travelers like Karey Martinez. For that, he gets another NLRB charge.
Have they thought about getting rid of Basher, as he is the one causing all the problems?
Does Local 23 know what Solidarity means?
Basher obviously does not!