Janice Hahn sure looks chummy with the ILWU, having her picture taken in the Local 13 Dispatch Hall surrounded by her new Union buddies.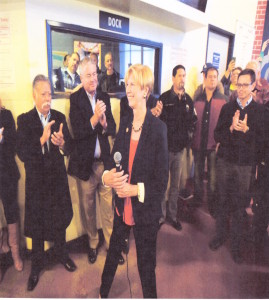 If you think Janice was there to get votes, you would be wrong, she was there to get her kid a job as a longshoreman, and she did.
Janice's son just got hired as a longshore mechanic at the new "robot" dock at Long Beach Terminal.
Janice's son had no certifications, none, but he has a friend in ILWU Local 13 President, Bobby Olvera Jr., who knows all about how to use your last name to get ahead on the waterfront.
What did Janice do for the ILWU to get Bobby O Jr. to get her son hired at a PMA company as a longshore mechanic?
What did Bobby O Jr. get for helping her son, who has zero certificates, get hired as a longshore mechanic?
Janice's son is in good company.
Mondo Porras, and Big Bob also got their kid and grandchild hired a longshore mechanics, using the little known back door into the ILWU.
Just proves again; it is who you know, not what you know, that gets you ahead in life.
Chug, chug, chug….