When Scott Mason decided to put himself back into the crane to finish the ship, after picking up a semi and dropping it to the dock and knocking the driver unconscious, he broke the law.
In Washington State, when a machine operator has an accident or even a near miss they are required to receive re-training before they are allowed to go back to operating equipment.
Because there is no Terminal Manager at the Matson terminal that outranks past Local 23 President, Scott Mason, he decided to put himself back in the crane after knocking out member Dave Glen.
For that the Employer received the following Safety violation complaint.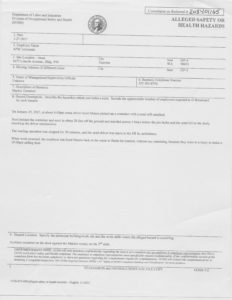 Or for those who prefer PDF; WISHA Safety violation complaint – Scott Mason
In the Ports of Tacoma & Seattle the fate of longshoremen is determined by who they are, not what they do, as evidenced by what happened to Scott Mason.
If the same thing had happened to a regular longshoreman, i.e. not an officer or a friend or relative of an officer, he or she would have been removed from the crane and a complaint filed, depending on whether or not they are liked by the current Local Officers.
Robert Wilson has been denied crane training for 4 years because he broke a dog off a hatch cover, while being watched by his trainer, but other past Presidents have dropped cans in the water or ripped off radar antenas and nothing at all happened.
Wonder what the Northwest Seaport Alliance crane productivity agreement will do about this?
NOTHING because Local 23 President, Dean McGrath, is not stupid and he did not sign the Agreement with Local 19's Chief Ball Washer, Rich Austin.
More to come…
ps: Please check out; https://www.gofundme.com/Eric-and-his-family