Bobby's latest PR move is to write to the Executive Director of both the Port of Los Angeles and the Port of Long Beach to complain about a rumor that 2 PMA companies were fined and suspended from membership in PMA, for breaking one of the Employer's club rules.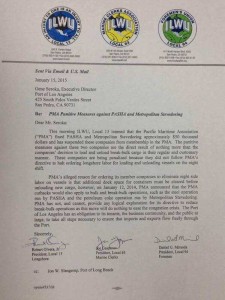 What does Bobby expect to get from writing to the Ports? Does he even know that they are not members of the club, and have no say in anything PMA does.
Is Bobby trying to protect his buddies at PASHA? The ones that ghost payroll his mother's babysitters?
Why did Bobby lie about getting approval from the Publicity Committee to hire his new PR buddy?
He claims they approved his request at the December 31, 2014 meeting. Problem is they did not attend, because they were not told about the meeting.
This is kinda like the E-Board meeting where his transfer was approved, even though there is nothing in the minutes to indicate his request was sponsored or approved.
All the noise Bobby makes is not going to change the fact that he and Frank caused all the "PMA night shift" problems when they instituted their 8.51 program to only dispatch "certified" drivers.
PMA will find it amusing that Bobby is so willing to protest something he thinks is happening to PASHA, when he did nothing to to protest his member, Eric, getting 2 years off work for a cartoon after they said there was no violation of the contact.
How about another letter to Macy's, it will have the same effect as your letter to the Ports?