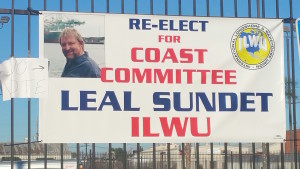 Frank Ponce de Leon has never won an election where he actually had to run against someone.
Frank wants to be the shot caller on the Coast Committee and to do that he has to get rid of Leal.
Frank recruited Cam Williams from Local 19 to run against Leal and plans to use his Local 13 influence to get him elected to replace Leal.
Cam Williams has never argued an a case before an Arbitrator, has very little experience, and will be easy for Frank to control when he gets elected.
Frank thinks that because he successfully threatened his way on to the ballot unopposed, he will automatically win.
Frank can't stop members from writing in another choice.
Harry Bridges said: If the membership gets all the information they will almost always do the right thing.
That belief is about to be put to the test, in the up coming Coast Committee elections.
Good luck ILWU. Please, do the right thing.