The subject of Casuals is back in at Local 13, just in time for elections. Surprise, surprise, surprise.
Check out the latest edition of Inside the E-Board with Eric Aldape.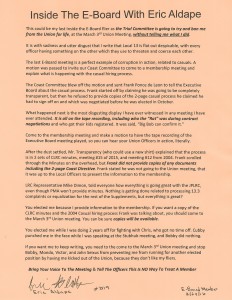 Local 13 invited the Coast Committee but they are to busy kissing ass, and telling lies, at the 2016 JOC TPM Conference this week in Long Beach, and it is too inconvenient for them to stop by Local 13's Membership after the TPM ends on Wednesday.
Frank is afraid to go in front of the Local 13 Membership, he knows what will happen.
The only reason Frank was elected to the Coast Committee is because he ran unopposed. (Big Bob fixed that at the Caucus)
Frank claims transparency, then refuses to give copies of the documents he is using. I don't think Frank knows what the word means, after all it is a big word.