It has been over 3 years since Eric's election flier with this cartoon caused Local 13's President, Chris Viramontes, to file a Section 13.2 discrimination complaint.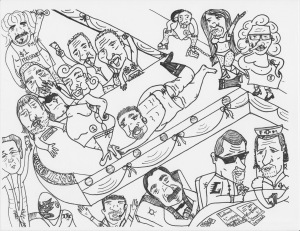 The Arbitrator ruled the cartoon was not a violation, but then he and the Union decided they were going to "get" Eric and found him guilty of making "libelous and disparaging statements," and gave him 180 days non-dispatch.
When Eric appealed to the Union's Coast Appeals Officer, Rudy Rubio, he not only denied the Appeal, he added another 180 days to the penalty.
PMA refused to implement the Arbitrations claiming they should be vacated in 2 letters. One dated November 21, 2012, the other dated November 27, 2012.
On December 18, 2012, The Union called the Arbitrator and forced PMA to implement Eric's 6 months non-dispatch.
Thanks to a couple of actual Union men, Eric was able to work at a non-PMA rail ramp at the Port of Tacoma who hire ILWU workers under a non-PMA contract .
When Local 13 found out Eric was working out of Local 23 at the non-PMA job, they contacted their buddies at Local 23 and had them pass a rule to prevent Eric from being dispatch to the job.
When Local 23 tried to enforce the "Eric" rule they were confronted by the NLRB who told them their rule was illegal, and they ended up dropping the rule.
On July 3, 2014, right after Eric's return from Tacoma, he was confronted by Local 13's President who invited Eric to go across the street into the alley and "work it out." He was pissed off that Eric had been able to work when the Union had put him on non-dispatch.
It was Frank Ponce de Leon that ran crying into the Local, like a little girly man yelling call 911 Eric had assaulted Chris, and the Local called the Arbitrator and got Eric another year on non-dispatch, plus the 180 days added on by Rubio.
Local 13 told Eric they had to implement his non-dispatch, because all penalty Arbitrations had to be implemented, in order to protect the integrity of the grievance procedure.
Eric filed his Section 13.3 discrimination complaint, UC-42-2013, in late February 2013 when he found out the Union had been lying to him about their claim they had to implement all Arbitrations.
Eric found out that Award SC-10-97, the Award that banned Local 13's favorite son Danny Imbagliazzo from steady employment for life, had never been implemented. So much for their integrity.
It took Eric over 3 years to get to the first step of the Section 13.3 grievance procedure, his Section 17.4 hearing.
On March 10, 2016, the LA/LB JPLRC allowed Eric to present his case.
Here is the list of the 66 Exhibits submitted by Eric at his hearing.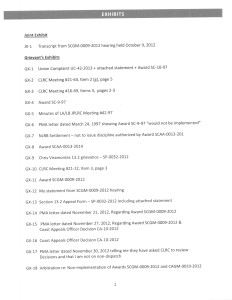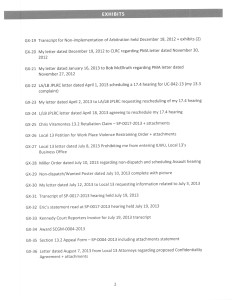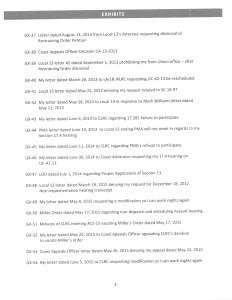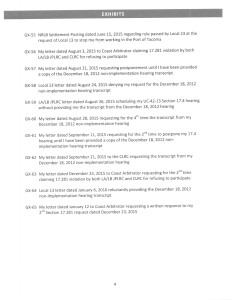 For those who prefer PDF files, click here; Eric – UC 42-2013 3-10-16 hearing exhibits
The documents speak for themselves, and they tell a story of a Union doing everything it can to deny a member his right to due process, but in the end right makes might.
Eric finally got the opportunity to make his case that he was discriminated against by his own Union, and here is what he said;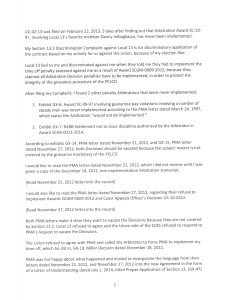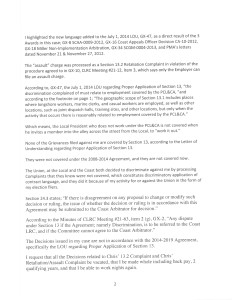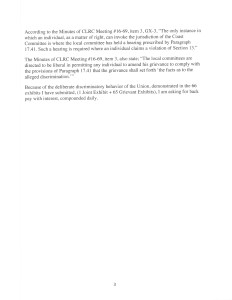 For those who prefer PDF files, click here; Eric – 13.3 2 year backpay argument
It is now up to the LA/LB JPLRC to make a decision, and Eric has the right to appeal their decision to the CLRC and ultimately to the Coast Arbitrator, if he disagrees.
In the mean time, Bobby O Jr. and his crack rat buddies are going to kick Eric out of the Union, at the next Union Meeting, without telling him what he did or giving him anything in writing.
Time to find out if the words; An Injury to One is An Injury to All, really mean what they say.
Time for the over 6,000 members who did not vote for Bobby to show up at the next Union meeting and tell Bobby you do not want to kick Eric out of the Union, because the words mean something.
Time to find out if Harry was right when he said; if the members get all the information they will always do the right thing.
Time for the members of the ILWU to start acting like a Union, and do the right thing.
If not, this is what the beginning of the end looks like.
Read the PMA letters and decide for yourself. Eric – PMA letter 11-27-12  and Eric – PMA letter dated 11-21-12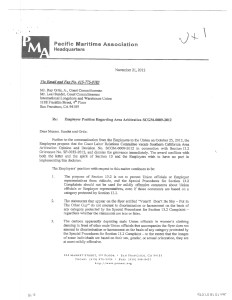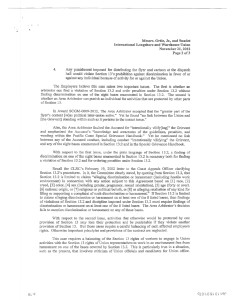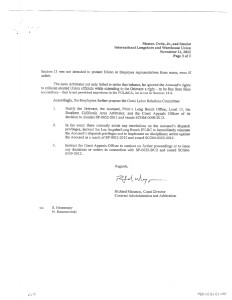 Chug. chug, chug…..