According to the new ILWU/PMA Arbitrators assault now gets you 1 month off work, not the minimum 1 year required by Section 17.821 of the PCLCD.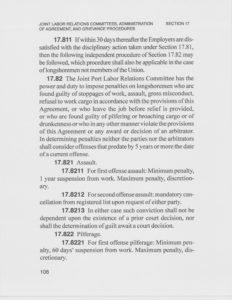 Last year after the new Arbitrators were installed, a lady longshoreman in LA/LB was assaulted on the job by a man.
She claimed she was assaulted in a Section 13.2 discrimination complaint and new ILWU Arbitrator, Mark Mascola, found the man guilty of discrimination, and assault, and gave him 1 month off work. 1 month off for assault.
Apparently the new arbitrators don't have Section 17.821 in their copy of the PCLCD.
I thought that maybe the new assault penalty was related to the Section 13.2 procedure, but no it is related to the idiot Arbitrators employed by the ILWU and PMA.
Now I see it is just the new Arbitrators and the ILWU/PMA applying their WIFL (Whatever I Feel Like) method of labor relations and contract interpretation.
According to Award PSAA-0007-2017 workers involved in physical altercations on the job (assault) are now given 12 months off work with 11 suspended, if your name is Conrad Spell and you are a past President of Local 23.
I know the ILWU and PMA Arbitrators are unqualified chumps picked because they will do what ever they are told, but I did not know they reached to the bottom of the barrel to pick their "neutral professional."
Apparently the "neutral professional" can't read a contract, or has decided to do what ever he is told so he can collect his $12,000/month bribe (salary).
I particularly like the part where the Arbitrators decide Conrad is guilty because the JPLRC was discussing a penalty. WOW. Did not know that discussing a plenalty proves a person is guilty.
What online law school did the neutral Arbitrator go to? Trump University?
This is what happens when idiots are in charge at PMA, and the inmates are allowed to run the asylum.
Pathetic is what it is, simply pathetic.
This ain't over…….