Check out the following Federal Court filings.
The first shows that Chris Viramontes recanted his denial of any involvement in the Port Medical fraud, and admitted that he invested $130,000 in Port Medical.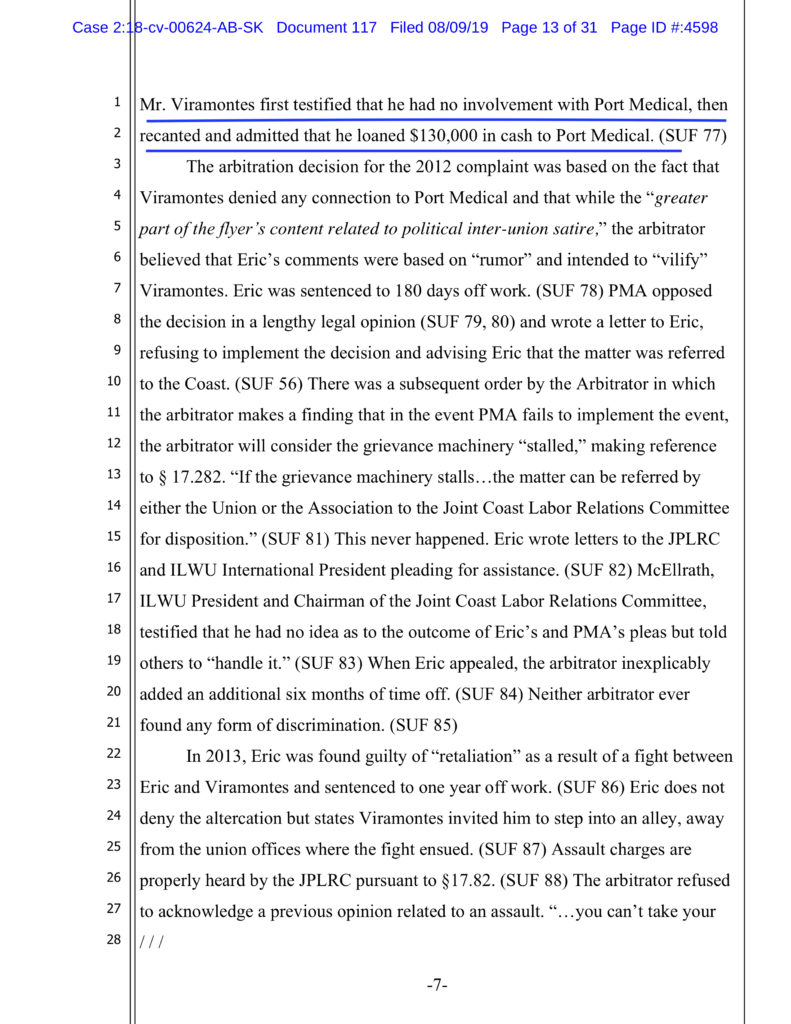 Chris finally admitted what everyone already knew; that he was a partner in the Port Medical fraud.
Eric did 1 year off work because of Chris' lies, and it was Chris' lies that resulted in Eric's deregistration.
The truth is coming out and, if this case gets to trial, a jury will not be kind to either the ILWU or the PMA for their involvement.
The second shows that Mike Dimon covered for his buddy Arbitrator Mark Mascola by faking a Special JPLRC Meeting to deny the Section 13.3 Complaint of bias filed by Eric.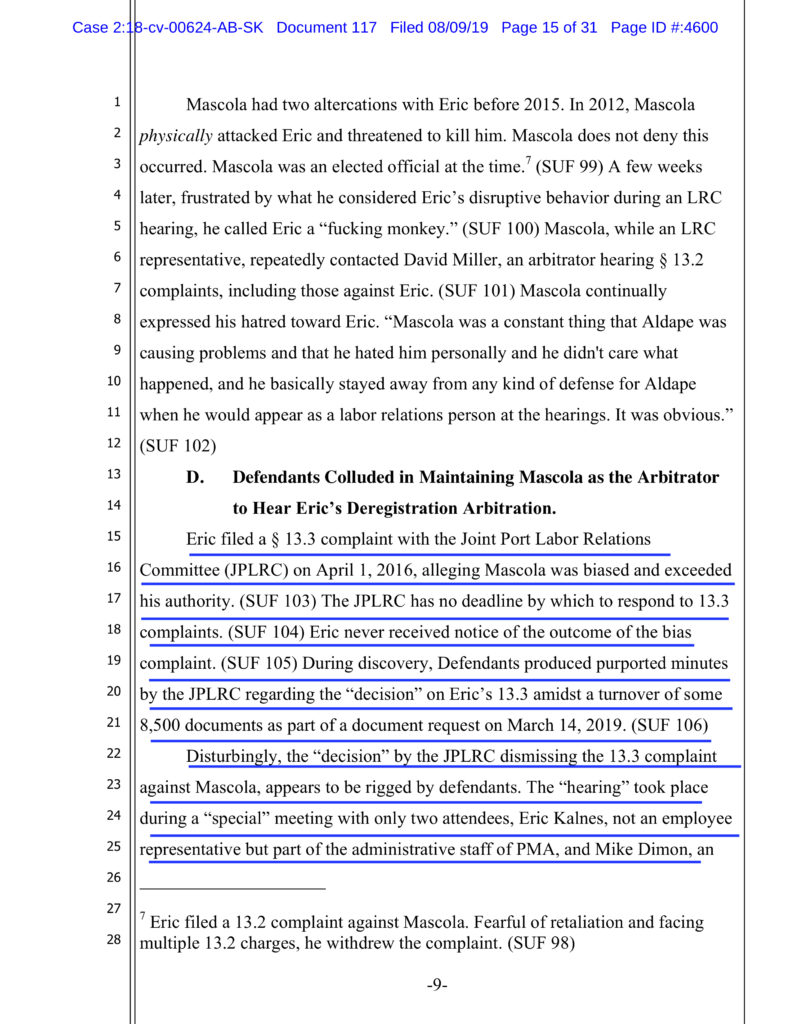 Mike Dimon claims he had a Special JPLRC Meeting with Eric Kalnes from PMA, agreed to deny Eric Aldape's Complaint, then never notified him. No actual Employer members were present, and PMA staff have no vote.
Now both the ILWU and PMA are claiming that Eric failed to exhaust the grievance procedure, because he did not appeal the decision for which he was never notified.
Here is the entire Opposition to Local 13's Motion for Summary Judgement:
This Court Document is just one example of the dirty deeds being perpetrated by the corrupt Union Officials at Local 13 and the International, with PMA's approval.
Both Local 13's and the International's Officers, including Frank Ponce de Leon, covered for the criminal activity of fellow Officer Chris Viramontes, by refusing to process the Employer Complaint against him and letting the 2 non-Officers Dave Gomez and Sergio Amador take all the heat. Dave and Sergio went to jail and got de-registered, for their part in the massive Port Medical benefits fraud.
In the mean time, Local 13 Officers are refusing to allow dues paying member in good standing Eric Aldape to be dispatched to non-PMA jobs, as is his right as a dues paying member in good standing.
What do they think Eric is paying for?
If the Executive Board continues to refuse to allow Eric to be dispatched to non-PMA jobs, this issue will be placed before the membership who have the final say.